Nabtesco Corporation has had decades of profitable growth, thanks in large part to its world-leading motion-control technology, and specifically that technology's centerpiece, precision reduction gears, in which it has a global market share of an incredible 60 percent.
But now Nabtesco Corp. is looking for the next steps in its evolution: new, disruptive technology that will ensure global leadership and profitability for decades to come.
That's the message Nabtesco Corporation director Toshiaki Akita delivered in Zurich recently, when he visited Nabtesco Technology Ventures, and its strategic partner, Emerald Technology Ventures.
"Our leading market share makes us very profitable, and so for many years the sense of urgency has been very small," he said. "But this does leave us vulnerable to competition from new technologies that we are not even aware of.
"We have realized that it's time for Nabtesco to build an open-innovation ecosystem, in partnership with industrial-technology startups in Japan and around the world," Mr. Akita said. "This will allow us to evolve our product line, incorporating new technologies such as AI and IoT, and to develop innovative new products to serve our customers."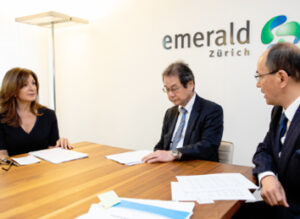 Mr. Akita met with Gina Domanig, managing director of Emerald Technology Ventures, which is collaborating with Nabtesco in its search for new technology investments.
Ms. Domanig echoed Mr. Akita's enthusiasm for finding and developing disruptive technology. And she pointed out that such partnerships work best when they are a two-way street: "I would encourage you to think about what you as a large corporation can contribute to the startup. Most large corporations tend to only think about how they're going to profit or gain from the startup, but I think each relationship needs to be mutually beneficial. Each party needs to be making a strategic contribution to the other."