ZURICH, Switzerland, February 14, 2023 — Nabtesco Technology Ventures (NTV) has announced that it joined an investment into NanoGraf, a maker of electric battery components. The total $65 million infusion, which was led by Volta and joined by NTV and Emerald, will help NanoGraf advance toward mass production of its high-performance anode materials, which have the potential to increase energy density across the battery landscape.
Lithium-ion batteries rank among the most important pillars of the clean-energy transition. Their use in zero-emissions vehicles and power storage systems make them a keystone of electrification. As the global economy races to meet urgent net-zero goals, deploying batteries to store energy on a significant scale will be critical.
Chicago-based NanoGraf manufactures a silicon-based alloy anode, enabling higher battery capacity while minimizing material swelling challenges which limit competing silicon technologies. This could lead to expanded vehicle range, longer device run-time, and ultimately lower cost for the batteries that will constitute a fast-growing market. Industry watchers predict that sales of lithium-ion batteries will grow by 13% annually from 2022 to 2031, at which point the global market will be worth $135 billion.
NanoGraf's proprietary production process allows low-cost, scalable manufacturing, and its anode product can seamlessly "drop in" to existing battery designs, without the need for extensive re-tooling. With the recently-passed Inflation Reduction Act promising hefty subsidies for US-manufactured clean technologies, NanoGraf is well-positioned to capitalize on both a ballooning domestic ecosystem and surging international demand.
"NanoGraf provides a great combination of strong product, experienced and balanced management, and a business model closing in on substantive revenue at reasonable margins," says Hiroshi Nerima, Managing Partner at Nabtesco Technology Ventures. "We are excited to work together with NanoGraf on new market and product development for the Japanese industrial OEMs to support them at this pivotal moment in their electrification trajectory."
Cleantech venture capital pioneer Emerald advised Nabtesco on the deal under its unique corporate venture capital-as-a-service mandate. Under this framework, Emerald manages the investment activities of Nabtesco's venture arm, aiming to provide the best value for collaboration with innovation vanguards like NanoGraf.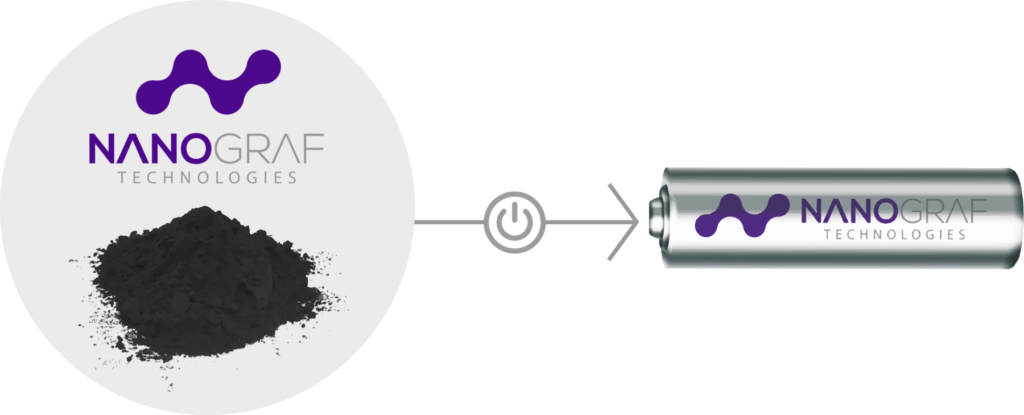 About NanoGraf
NanoGraf is an advanced battery material company whose patented silicon-anode technology enables longer-lasting, higher-energy, and higher-power lithium-ion batteries. NanoGraf works with more than 50 companies, including some of the world's leading consumer electronics, household appliance, and power tool brands, and over 12 strategic partners in electric mobility (from startups to Fortune 100s). NanoGraf is a spinout of Northwestern University and Argonne National Laboratory. For more information, visit www.nanograf.com.
About Nabtesco Technology Ventures
Nabtesco Technology Ventures is a corporate venture fund launched in 2018 by Japan's Nabtesco Corporation, in partnership with Emerald Technology Ventures, a global leader in technology venture capital. The fund deepens Nabtesco's involvement in the development of disruptive ventures around the world, strengthening our pursuit of open innovation, a key pillar of our company's growth strategy. The EUR 75 million fund invests primarily, but not exclusively, in robotics, motors, sensors, additive manufacturing, artificial intelligence, and Internet of Things technologies. Nabtesco Technology Ventures reinforces Nabtesco Corporation's position as a global leader in manufacturing technology, accelerating investment and collaboration around the world. For more information, please visit nabtesco-ventures.com
About Emerald Technology Ventures
Emerald is a globally recognized venture capital firm building a sustainable future at the crossroads of industry and technology. Founded in 2000, it is a pioneer in open innovation, providing multi-national corporations with rich deal flow and insight in the sectors and markets of tomorrow. Emerald has managed and advised assets of over €1 billion from its offices in Zurich, Toronto and Singapore. The firm is dedicated to tackling big challenges in climate change and sustainability via over 500 venture transactions and five third-party investment mandates, including loan guarantees to over 100 start-ups. For more information, please visit www.emerald-ventures.com.
FOR FURTHER INFORMATION, PLEASE CONTACT: